In two previous blogs (here and here), I've dived into the subtleties of John 3:16. This iconic verse, often used to convey the Gospel, has more nuance to it than is normally recognized. The words "believe" and "eternal life" and even "have" are translations that typically do not capture the full meaning. This epitomizes how easy it is simplify the Christian faith and lose its wholeness. And one of the ways Christians have been tempted to do so is by making Christianity only about individual people and their individual destinies beyond death.
It is with this in mind that I tackle one key word in John 3:16 – "world." The argument I make is not conventionaI. But while I certainly don't claim to be a theologian, I do believe we all should wrestle with what we read in the Bible and work to understand how it fits together as a whole. I encourage you to be the judge whether my reasoning is compelling or not.
What do most Christians understand to be the meaning of the word "world," which is a translation of the Greek word "kosmos,"in John 3:16?
I've looked to answer that with an admittedly unscientific search online. And I've encountered what one often finds with Christian doctrine and key verses – a wide range of opinions with sometime fierce denunciations of others' opinions.
Some of the dominant opinions one finds for answers to that question are
1. All of humanity
2. All of fallen humanity
Here's John Piper's take on the second understanding, which is representative of many other theologians I've come across:
That is the way John is using world here. It is the great mass of fallen humanity that needs salvation. It's the countless number of perishing people from whom the "whoevers" come in the second part of the verse: ". . . that whoever believes in him should not perish." The world is the great ocean of perishing sinners from whom the whoever comes.
3. The elect of God (of which there are a number of interpretations).
What I could not find was anyone asserting that world in this case actually meant the whole world of people, ants, trees, salmon, soil microbes, coyotes, and dung beetles.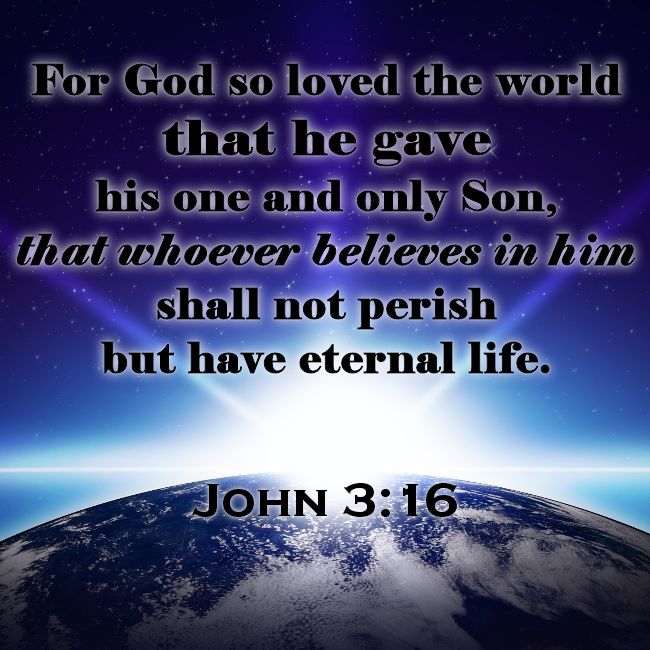 Here are some reasons why I believe it makes sense to read "kosmos" as the whole earth:
The Gospel of John begins with the whole world: All too often we atomize the Bible, pulling together a set of verses plucked out of different books of the Bible to prove our case on a particular issue. In the process it is very easy to do violence to the wholeness of each book and to the complex wholeness of the Bible. When you begin at the beginning of the Gospel of John, you find John stating that Jesus was the Word and the Word was with God from the Beginning. And in John 1:3, John asserts that "Through him all things were made…" Would Jesus desire the spoiling and destruction of all the things made through Him?
The Bible itself begins with the whole world: In the beginning we see God creating earth mysteriously and through an orchestration of the creative capacities of the forces of nature. All of what God creates is good. When humanity is added in God's image, the whole of Creation is judged to be very good. This is the context of the rest of the Bible.
The Bible ends with all of Creation: Gregory Stevenson, professor of New Testament at Rochester College, writes in this article:
Revelation presents God as the Creator for whom creation is a fundamental component of his identity and activity. He is both the divine benefactor who bestows creation upon us as a gift and the sovereign Lord who rules over that creation faithfully. As God will not abandon his people, he also will not abandon his creation. Furthermore, God's vision for his creation is all-encompassing (from the alpha to the omega) and leading towards a predetermined goal – a goal which itself is all about creation.
Humanity is given a special and weighty responsibility: In the first chapter of Genesis, humanity is told to fill the earth and to subdue and rule over the living things of the world. How do we choose to read this? Christians have, unfortunately and tragically, tended to read Genesis 1: 26 in isolation and as license to kill, exploit, and tyrannize. This question needs more attention but consider these factors: (a) God has just said that all that God created is good, (b) look carefully at the original meanings of the Jewish words of subdue and rule in this blog, (c) in the very next verse humanity's diet is defined to be plants, so what kind of rule is it when you are not given permission to eat animals?, (d) in Genesis 2, Adam is called on to keep and tend the Garden, (e) other verses and stories in the Bible make clear that all of Creation is of value to God, and (f) our model for ruling should be God's rule over us which we see most fully realized in Jesus who showed anger at the misuse of power and who came and died out of sacrificial love.
"Kosmos" can legitimately mean "earth": Here is what the commentary in the Today's New International Version of the Zondervan Bible says about this Greek word: "Another common word in John's writings, the Greek noun for "world" is found 78 times in this Gospel and 24 times in his letters (only 47 times in all of Paul's writings). It can mean the universe, the earth, the people on earth, most people, people opposed to God or the human system opposed to God's purposes. John emphasizes the word by repetition and moves without explanation from one meaning to another."
The context of the bronze snake: In John 3:14, Jesus creates a parallel between the necessity for him to be raised up on the cross and Moses raising up the bronze snake while the people of Israel were in the wilderness. This comes from Numbers 21 where we read of God using poisonous snakes to punish the people of Israel for murmuring against Moses, which is essentially the doubting and questioning of God. In agony and fear, the people ask for the snakes to be taken away. Instead, God has Moses make a bronze snake and hold it up high. People who looked on the snake would not die.
This creates an interesting context for John 3:16. Here are several elements of this context we should allow to seep into our hearts. First, God used snakes for his purposes, and they obeyed, unlike the people of Israel. Second, God did not send the snakes away (much less destroy them) as God had been asked to do, Third, God used an image of a snake as a method of saving the bitten people who looked on it. Fourth,in the context of how the Bible tells the story of how sin entered the world, perhaps God is making a point of redeeming the conception of snakes in the bronze snake. Perhaps the challenge, in part, for the Israelites to decide to look on the bronze snake with faith was that it was a snake. In short, the reference to the bronze snake is steeped in sinful people, in sinful behavior, consequences for sin, Creation as part of the story, Creation serving God, and an unexpected symbol requiring faith and confession that will then lead to saved life in this world which will inevitably lead to changed behavior in this world.
The challenging logic of the structure of the verse: However one chooses to read John 3:16, there is an interesting question that one must answer when reading it. How does the first part of the verse relate to the second part of the verse? Specifically, the first part begins with God's love for the world. Whether "world" refers to the whole earth or just to fallen humanity, why does the verse end with individual human beings having the opportunity to have eternal life? How can God care about the whole set encompassed by "world" and offer a solution that is seemingly only effectatious for a subset of individual human beings?
In other words, how does it make sense for God to love this larger entity if the benefit of those who believe is only for their individual souls beyond death?
It doesn't.
As we've seen already, John is using the present continuous tense when referring to "have eternal life." The proper way to read this is actually this – "go on having eternal life." And what does go on having eternal life look like? I'd suggest that it looks like Jesus' life, a life in deep synchronicity with God's purposes right now and forever, before and after death.
When you and I go on believing and completely trusting in Jesus which leads us to go on having eternal life, we will begin to become the humans we were all meant to be. That will impact our relationship with God and with fellow human beings. We will share God's love and the message of God's love in Jesus. We will fight against the abuse of power.
It will also shape how we live out our mandate to be God's image on this earth. When we become what we as humanity were intended to be, then Creation will also flourish as any subjects of a good king would flourish. This will bring God's love for all of life to the earth.
So the puzzle of the structure of this verse is at least partly solved by the unspoken assumption it contains – an eternal, faith-filled life will be full of outward-focused love that prospers other people and God's earth.
True eternal life leads to a rippling outward of God's love to all that God has made.
Through us, God's love is meant to go viral.