I first became aware of James Amadon when friends alerted me to an essay he had written in the magazine of the Evangelical Covenan Church entitled "HIs Eye is on the Salmon." I was struck by the conviction, compassion, and intelligence with which he communicated his faith. I knew I had to talk with him. So over the past few years we've exchanged phone calls and emails. Without fail these connections have relit my own convictions and challenged me to do more. I knew at some point I would want him to be able to share his insights here.
Now seemed the right time. He recently made the hard decision to leave the church he had been pastoring to help launch a new initiative to advance a more integrated Christian faith in the 21st century. If there are to be communities that live out a whole Christian faith, then there will need to be brave people who step outside of their comfort zones to build them. 
Nathan: Can you trace your journey from growing up in New Hampshire to becoming the executive director of Circlewood?
James: I grew up in a rural area of New Hampshire in a small town called Lancaster. Church was a huge part of our lives. We lived in town. We went to the St. Paul's Episcopal Church just around the corner. My dad's been the organist for over 30 years. My mom helps lead worship. We were just always there. In addition to that, because it was a small church, I went to a friend's youth group at the local Assemblies of God congregation. These two different church perspectives – one high church that leaned liberal, the other a charismatic congregation that leaned conservative – influenced me going forward.
In addition to that, living in what we call the Great North Woods, where a ten-minute walk took me from my front door into the woods and down to a beautiful beaver pond, well, all that made its way inside me.
As a teenager, I received a call to ministry as an evangelist. While I resonated with this call, I didn't know what it meant. I admired evangelists like Billy Graham, but I didn't feel like that was for me. So I left my vocational direction open and began a search for what it meant for me to be an evangelist. What was the good news? What does it mean to share it?
I went to a Christian liberal arts college and studied the Bible, theology, and philosophy. I knew intuitively there was a personal dynamic to faith but I also knew there was more to it than that. When I graduated I was still not sure of my vocational direction. I knew I wanted to go seminary. I ended up at North Park Seminary in Chicago and threw myself into the social dimensions of the gospel. I read everything I could find. I started a Bread for the World chapter which focused on lobbying political leaders on behalf of poor and hungry people. I advocated for the homeless in the city. I had some opportunities to work in these areas but I still had questions – there was still something about the Good News that was missing.
After seminary, I entered pastoral ministry, which was has been wonderful, and started reading agrarian writers like Wendell Berry. This gave me the last piece of the puzzle and helped me to see our faith from the perspective of a connected, interdependent Creation. From there it has been a journey on how to bring the personal, the social, and the ecological aspects of the Gospel together.
Over the last decade I've been thinking a lot about that and began looking for churches or places that practiced that sort of integrated version of the faith. I couldn't find many churches or parachurch ministries that were doing that. There are certainly people and places doing incredible work in one area, maybe two areas, but very few that offered that full integrated vision. That's when it began to occur to me that maybe this was what I was supposed to do, maybe this is the fulfillment of that initial vocational call – to help people see the Good News in all its fullness, to see how we can integrate the personal, social, and ecological dimensions of the gospel. This is what led me to my current position as the executive director of Circlewood.
Nathan: Please tell me about that transition from the church you were the pastor of to becoming the executive director of Circlewood. How did that transition sharpen your insight into your call?
James: I served as Senior Pastor at Highland Covenant Church in Bellevue, Washington for the last ten years. Stepping down was very, very hard. I loved the people, the work, and the wider community. I would not have left if I had not felt compelled to follow this emerging call.
Thinking about it now, I can see that my denomination – the Evangelical Covenant Church – prepared me in some ways for this, because we read Scripture holistically and we are a very mission-driven denomination. One of our core affirmations is that we are committed to the whole mission of the Church. Now for the denomination that has meant expanding our work in areas of mercy and justice. It has been a little slower for us to the see the ecological aspects of the gospel, but the theological framework is there.
Nathan: This has been a big transition. Your family must also support your call.
James: Yes. They have been incredible. They loved our church. My kids loved that I was the pastor of the church. They were very much loved. In those ways, this has been a real loss for them. As I pursue something different, they have been very courageous, very supportive of me. My wife Emily has been incredible. She understands why I feel compelled to take on this new call. Honestly, I could not do it without their support.
Nathan: Please tell me more about Circlewood and what you are working on and what your goals are in that endeavor.
James: While it is still a work in progress, the emerging vision for Circlewood is "An ecologically-centered church passionately pursuing mission with its people, the poor, and the earth." We want everyone to understand this integrated vision of faith and life that we have. We want people to love that vision, see the beauty and truth of it, and to commit their lives to following it as best they can. I think if you're able to lead people into a new vision of Scripture and show them alternative ways of living and believing in the world that this kind of transformation is possible. Out of this vision comes our specific mission: "To transform Christian thought and practice through integrative, ecologically-centered ministry."
Nathan: Is your vision that Circlewood will change people's vision of the Christian faith and that those people would then bring forth fruit in their home congregations? Or is it for them to plant new congregations?
James: Although at this point we are still developing the specific programming, we know that we want people to see this alternative perspective and be able to translate that into their homes, communities, churches, and workplaces.
Nathan: How would you explain why so much of Christian tradition has overlooked the ecological in the walk of faith?
James: I think there are a couple of reasons. Number one – I think we have incomplete readings of Scripture. I don't want to call them wrong, but I think they're incomplete. We're missing the place of the entire Creation, the whole cosmos, in God's purposes and work in Scripture from Genesis to Revelation.
The second reason is that within our working theology of the Church, particularly in evangelical churches, we have a really incomplete eschatology, our understanding where God is leading everything. We have a vision of heaven that's very distinct and different from the earth we live on. The biblical vision is of heaven and earth coming together in a way that brings the physical and spiritual together in a seamless unity.
And I think overlaying all of that is a cultural captivity to materialism that sees the world as raw material. As Christians, we're often more committed to the American dream as material prosperity rooted in unfettered use of resources rather than the Scriptural vision of receiving the life-giving gifts of Creation and responding with humility, reverence, and care. All of these together are keeping the Church from seeing the complete picture.
Nathan: Is it possible for an established mainstream church to change and begin to have a more complete understanding of the Christian life? My sense is that a lot of Christians who care about what happens to God's earth are typically in the outer orbit of their church, which itself does not consider Creation a core concern. Can there be effective reformation within existing churches or are new churches needed?
James: I think it's a combination of all of those things. We definitely need some reformation to be happening. I think that church theologians and historians would say that the Church should always be reforming itself. This is a period in which we have the opportunity to see this. I think there are streams of this happening. There is a growing community of people who want to move the Church in this direction.
It is a mistake to cast aside existing institutions and relegating them to the dust heap and either disengaging or believing we can create something from scratch. In between those paths we need people and places that have a connection to the historic Church and its institutions as they exist but also are focused on a new direction and are working hard to reform those institutions. In addition, we need people and places creating new institutional life that can replace some institutions or completely transform them.
I do think we're in this stage of upheaval where we're not quite sure what's going to be carried forward and what's going to be left behind.
Nathan: Have you seen any alternative visions of church that have a foot in a more integrated vision of Christianity?
James: Yes. It's important to remember that this is not a new vision of Christianity but a recovery. When mainstream Christianity has lost sight of this, individuals or communities have felt called to practice a more holistic faith and have stepped forward to create alternatives – from the early church to the various monastic movements to the Reformation to some Anabaptist groups to movements like the New Monasticism, which is a Protestant recapturing of monastic wisdom and practice. There are historic figures and communities that we can learn from that have been doing this for a long time.
In terms of today, it is important to look for people who are making connections between the personal, social, and ecological. They may not be perfect, but what they are doing is important. This is the genesis of renewal. Where are people are saying, "I'm tired of living a fragmented, siloed life. I'm tired of my faith not being able to speak to all aspects of who I am as I live in the world."
There are communities, people and institutions trying hard to bring together what we've torn asunder. I take great hope in that. And I hope that Circlewood can help people in that process of renewal.
Nathan: As we pursue this integrated version of the Gospel, where does the church building fit in? A great deal of church resources typically go towards maintaining the church building. There are a lot of positives to that in terms of having a place to gather and in terms of having an expression of your faith that is clear and tangible in your community. On the other hand, if we're living in an ecological age, would it make sense to have less resources invested in buildings and more resources invested in the land itself?
James: Ideally, the church is a particular people gathered together at a particular time to help take care of a particular place. The church body needs to ask, "How well are we doing those things? How are we caring for our place, which includes people as all the non-human aspects?" For existing churches that could means assessing use of physical resources. Are we taking care of them? Are our physical resources ecologically sustainable? Are our people living more sustainable lives? Are we seeking to do that together in this particular place?
I think there will be different answers because every people, every time, and every place is particular and unique. But there are churches that are doing several things with their existing properties, things like putting solar panels on the roof or initiating recycling, little small steps that can be taken that can raise that level of holistic care a little bit more
Nathan: Has there been one particular experience or book that has crystallized the convictions that you have in terms of the whole integrated understanding of what God offers us?
James: I think the one book that really set me on this journey was a collection of essays entitled The Unsettling of America. Wendell Berry in general has been a very important writer for me. He is someone who is thinking and writing and living through an integrated perspective. Some of the biblical and theological writers who have helped me develop my thinking and dreaming have been N.T. Wright, Norman Wirzba, and Ellen Davis.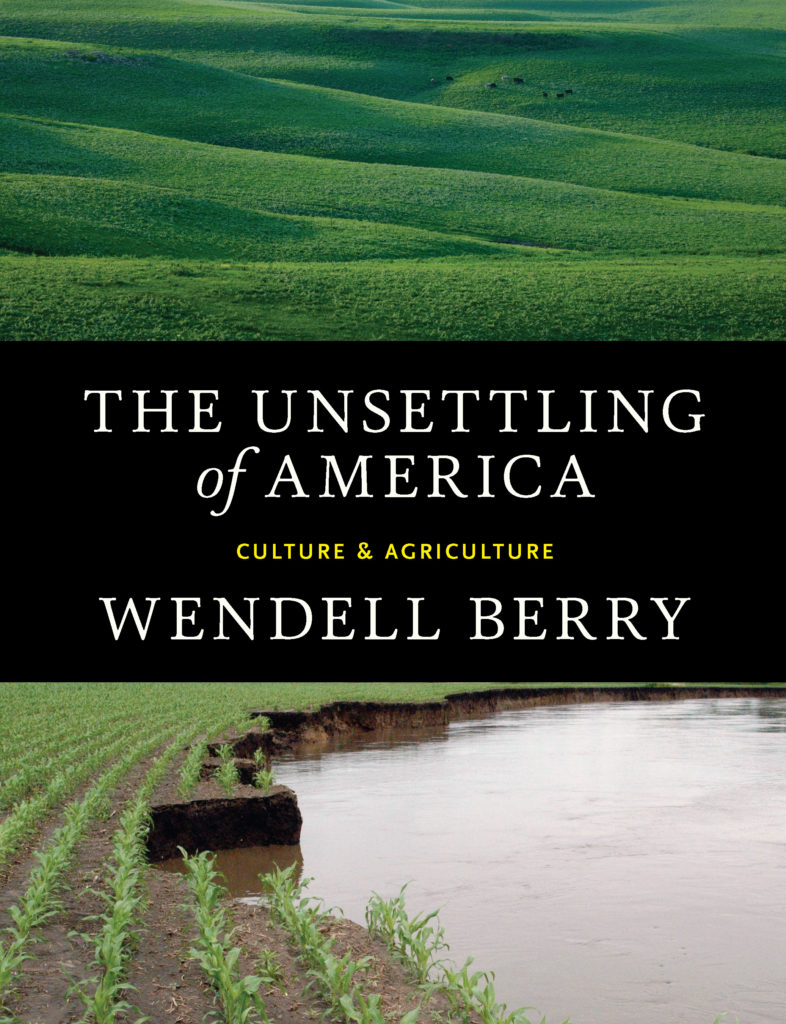 Nathan: Does living out your faith ecologically have benefits for your faith?
James: Absolutely. When I am conscious about my place and role in the wider creation I feel closer to God, closer to our fellow humans, and closer to the incredible world God has created. I begin to experience, if only in flashes, the comprehensive oneness that Jesus speaks about in the Gospel of John. I am given a taste of the shalom that so many of the prophets point to in their scriptural poetry. I begin to feel a deeper sense of personal peace that is set into the fabric of Creation, this deep connection between beings, between God and what God has made.
It's interesting to me that when I ask people questions like, "What have been the most profound moments of your life or of your faith?" most of them respond with experiences of being in nature. I think that speaks to a deep-seated sense that we are connected and that we need that connection.
Nathan: You said that your early call was for evangelism and that led to the pastoral ministry. What are the implications for evangelism from the perspective of a more integrated Christianity?
James: I think it means that we need an evangelism that's more holistic and creative, that is looking to draw upon the truth that every human is designed to be connected to God, to each other, and to the rest of Creation. I think this can inspire ways of life that are naturally evangelistic, that draw people to Christ by pursuing this vision of wholeness within themselves, their churches, and their communities. Inviting people into this way of life must also include inviting them to join in lament and repentance for the way we fail to live up to God's vision for us, and this, of course, is at the heart of evangelism as well.
This is exciting to me; it can draw in lots of different people – people who have rejected the Church, people who are drawn to Creation but not perhaps to established ways of the Church, and people who are interested in community or social justice but haven't necessarily found a faith community that's making connections to God from these perspectives.
Having that holistic perspective offers entry points for people to come and explore the Gospel.
Nathan: Well, that's the first time I've gotten excited about evangelism. (Laughter) So much of evangelism as I've seen it has been individualistic, self-oriented, consumeristic, and otherworldly. And that hasn't resonated.
James: Take these categories of personal, social, and ecological. There are many Christians who are able to articulate a personal experience of faith but lack a substantive social or ecological vision. There are other people who have no faith but who are actively serving the poor or know a lot about ecology and are living very responsible and intentional lives. Bringing those people together is like cross-evangelization. Christians have a lot to learn from others. We don't have to see them as the opposition, or objects to be converted, but as people with whom to engage with about the important questions. What is the good life? What is a whole life?
In that way, evangelism becomes much more about building community and relationships than taking an oppositional approach where I have a message that you need and you have a lack that I can fill for you. I think it can be much more mutual.
Nathan: I would build on that and say that you are offering people life, a life that's really rich and abundant, rather than having to start from a point of condemnation and offering them a life preserver to get them out of that condemnation. Can you give me an example of what gives you hope for what's possible for this integrated Christianity?
James: I continue to meet people, particularly young people, who intuitively understand a holistic approach to life and are looking for a church and a faith that can support them and offer them a place contribute. One young woman I know spent a college semester in New Zealand learning about ecological systems from a faith perspective. She is now doing graduate work in hydrology. Another young woman joined the protests at Standing Rock as a way to connect her strong personal faith to the social and the ecological problems of the world. Neither of these women grew up in a church that emphasized caring for the non-human world, but they arrived there anyway. That gives me hope.
Circlewood is in the process of developing its website. If you are interested in learning more about Circlewood or connecting with James, he would welcome your contact by email at jamadon316@gmail.com.