You need to know about Joel Salatin and his new book The Marvelous Pigness of Pigs. If you aren't already familiar with Joel, here's how the book jacket describes him:
"Joel Salatin is a third generation farmer who works with his family on their farm in Virginia's Shenandoah Valley.  The Salatin Polyface Farm is internationally known for innovative pastured livestock and services more than 5,000 families, 10 retail outlets and 50 restaurants through on-farm sales and metropolitan buying clubs."
That's the farming side of Joel. Joel was, in fact, the featured sustainable farmer in Michael Pollan's The Omnivore's Dilemma which has helped shape a new consciousness of what of our food system is and what it should be.
Here's how the website of his new book's publisher describes him and the message of his tenth book:
"Joel Salatin is perhaps the nation's best known farmer, whose environmentally friendly, sustainable Polyface Farms has been featured in Food, Inc. and Time magazine. Now in his first book written for a faith audience, Salatin offers a deeply personal argument for earth stewardship, and calls for fellow Christians to join him in looking to the Bible for a foodscape in line with spiritual truth. Salatin urges Christians to rethink America's allegiance to cheap corporate food that destroys creation in its production, impoverishes third world countries, and supports oligarchical interests. He wonders why Christians ignore and even revel in unhealthy eating habits and factory farming that runs counter to God's design. With scripture and Biblical stories, Salatin presents an alternative and shows readers that in appreciating the pigness of pigs, we celebrate the Glory of God."
The shortest and best way to think about Joel is in his own terms. He calls himself a Christian libertarian environmentalist capitalist lunatic farmer.
He's someone you should know. He's a Christian changing God's world for the better.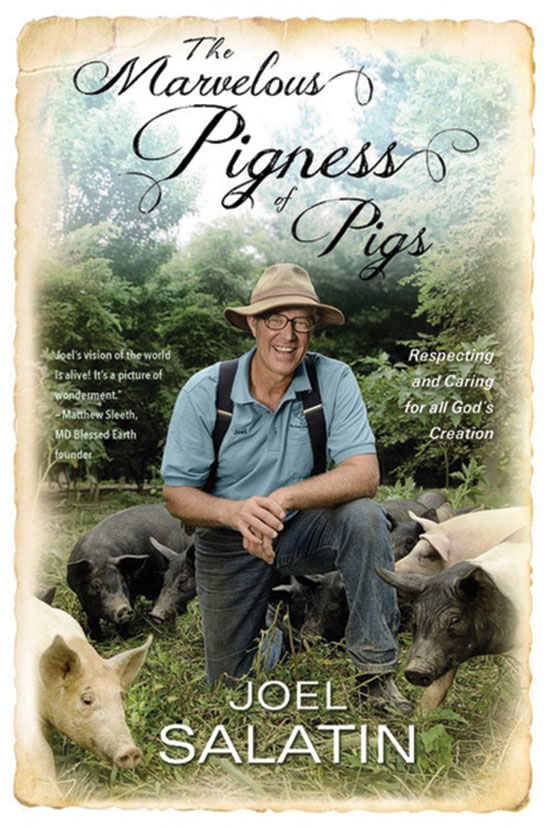 The following are a sampling of his words from his book. You'll be struck by his unique voice and earthy, faith-centered perspective on food and our food system.
When we're more interested in dysfunctional Hollywood celebrity culture or the Little League program than we are about what is going to become flesh of our flesh and bone of our bone, we voluntarily place ourselves into the corporate food agenda. That agenda is decidedly nutrient deficient, price inappropriate, and anti-community based. It promotes centralization, customer ignorance, and a mechanical view of life.
Things that the religious right would abhor if they were promoted by churches are embraced warmly in the food system. While preachers rail against bringing junk into our homes via TV, the Internet, and pornographic literature, few bat an eye at a home stashed with high fructose corn syrup, potato chips, and Pop-Tarts, indeed, some even suggest that the cheaper we eat, the more money we'll have to put in the offering plate. And to top it off, they denigrate anyone who would suggest part of caring for children is caring about what they eat. (pp. 80-81)
And..
The problem is we Christians do not trust God's plan. We don't. Oh, we trust it when it comes to matters of spirituality. But we think God's plan is broken – along with mainstream scientists of our day – when it comes to physical things. The result is that we Christians marching off to sanctity-of-life rallies send our kids off to college to get a good enough education to go work for a multinational corporation dedicated to adulterating God's creation.
I would suggest that a God-honoring farm is one that shows strength rather than weakness. It's one that has no veterinary bills. It's one that has healthy plants and animals. It's one that produces food that develops healthier people. This is not a health-and-wealth message.  It is ultimately a humility-and-dependence message. God's designs work. (p. 68)
And..
The whole idea of pornography, which of course the Christian community universally condemns, is instant and expedient gratification of a sacred act sanctified by marriage. Where is the Christian who dares to identify the pornographic food system that revels in death-inducing, sickness-encouraging, and creation-destroying orgies of self-indulgence? Strong language? Have you walked into a confinement factory chicken house lately? How about a confinement hog factory? Just like pornography disrespects and cheapens God-given and -sanctioned specialness in sex, factory-farmed hog houses disrespect and cheapen the God-sculpted specialness of pigs. (p. 133)