Some time ago I noticed something peculiar in verses eleven and twelve of the first chapter of Genesis. Here's how they read in the New International Version translation:
"Then God said, "Let the land produce vegetation: seed-bearing plants and trees on the land that bear fruit with seed in it, according to their various kinds." And it was so. The land produced vegetation: plants bearing seed according to their kinds and trees bearing fruit with seed in it according to their kinds. And God saw that it was good."
It struck me – God is calling upon the land to use its creative capacities to bring forth plants of many kinds. And later in the first chapter the waters are given that same sort of charge, and the land is asked to produce living creatures. How was it that for so long I had understood the creation narrative to suggest  that God literally and unilaterally shaped and crafted every single detail of our world from inert matter?
As it has many times, the Bible surprised me.
The best analysis I've seen on this element of the Genesis story is in William P. Brown's The Seven Pillars of Creation. I've already shared, in a previous post, a small section of Brown's book, and here I will do so from the third chapter in a section called "Cooperative Process of Creation."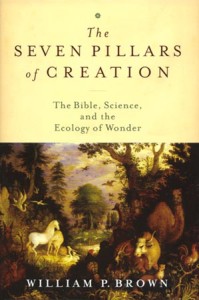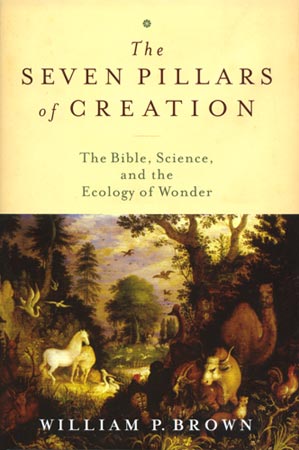 When you read this section with your heart and mind wide open, you'll find that it captures a number of things about the story of creation in the first chapter of Genesis that are vital and often overlooked:
What is it about God that human beings as God's "images" are said to reflect? The answer lies in the various ways God goes about creating in Genesis 1. Nowhere does God dominate or conquer. Unlike Marduk, God is no imperious deity. God commands light into being but does not slay the darkness to do so. The sky is created through the commanded separation of the waters, not by their dismemberment. The various cosmic domains are not the bodily remains of cosmic chaos. Neither is humanity fashioned from the blood of conquered deities. God is a differentiator, not a terminator.
Not unlike the Egyptian Ptah of the Memphite cosmogony, God creates by word rather than by sword. God creates by verbal decree that is at once commanding and invitational. For every act of creation, God begins by commanding and then, in certain cases, lets creation happen, as in the case of light (1:3), land (v. 9), and vegetation (v. 12). In other cases, God is directly involved in the act of creating (vv. 7,21, 25, and 27). In several striking cases, God enlists the elemental forces of creation to further the process. In Days 2 and 3, for example, the waters are commanded to separate themselves, and the earth is commanded to produce plants (vv. 9-11). Far from being inert, passive entities, the waters and the earth act at God's behest. They are bona fide agents of creation, as demonstrated also in the creation of life: the earth is commanded to bring forth land animals, and the waters are beckoned to produce sea life.
And God said, "Let the waters produce swarms of living creatures, and let birds fly above the earth across the dome of the sky." (v. 20)
And God said, "Let the earth bring forth living creatures of every kind: cattle and creeping things and wild animals of the earth of every kind." (v. 24)
In both instances, creation is accomplished by divine agency:
So God created the great sea monsters and every living creature that moves, of which the waters produced swarms. (v. 21)
So God made the wild animals, each according to its kind, and domestic animals, each according to its kind. (v. 25)
Nevertheless, as v. 21 makes clear, divine agency is accompanied by the active participation of the waters and the earth. God works with the elements of creation, not over and against them, much less without them, elements enlisted by God as "empowering environments." Creation is a cooperative venture exercised not without a degree of freedom.
There it is. In plain sight in the heart of the Genesis creation narrative. The elements of the world have a certain agency, a certain freedom exercised within God's overall framework and will, a certain life of their own. This gives us a dynamic, interactive, cooperative sense of our world's origins and of how God relates with the Creation.
I can't help but be convinced that this understanding should shape how we think of God, our relationship with God, and our proper relationship with God's earth.