My youngest son and I recently canoed the Wisconsin River on a clear, sunny Sunday as a way to mark his 13th birthday. From streets, buildings, cars, trains, screens, and a man-made world in constant motion, we found ourselves experiencing a radical change in experience and surroundings.
We were on a broad, slow-moving river lined with tall trees and graced with the occasional sand bar and wooded island. Turtles sunning themselves. Kingfishers swooping low over the water. A bald eagle wheeling in the sky far off in the distance. Crows calling. Two sandhill cranes honking at us in indignation as they slowly gained altitude to fly further downstream.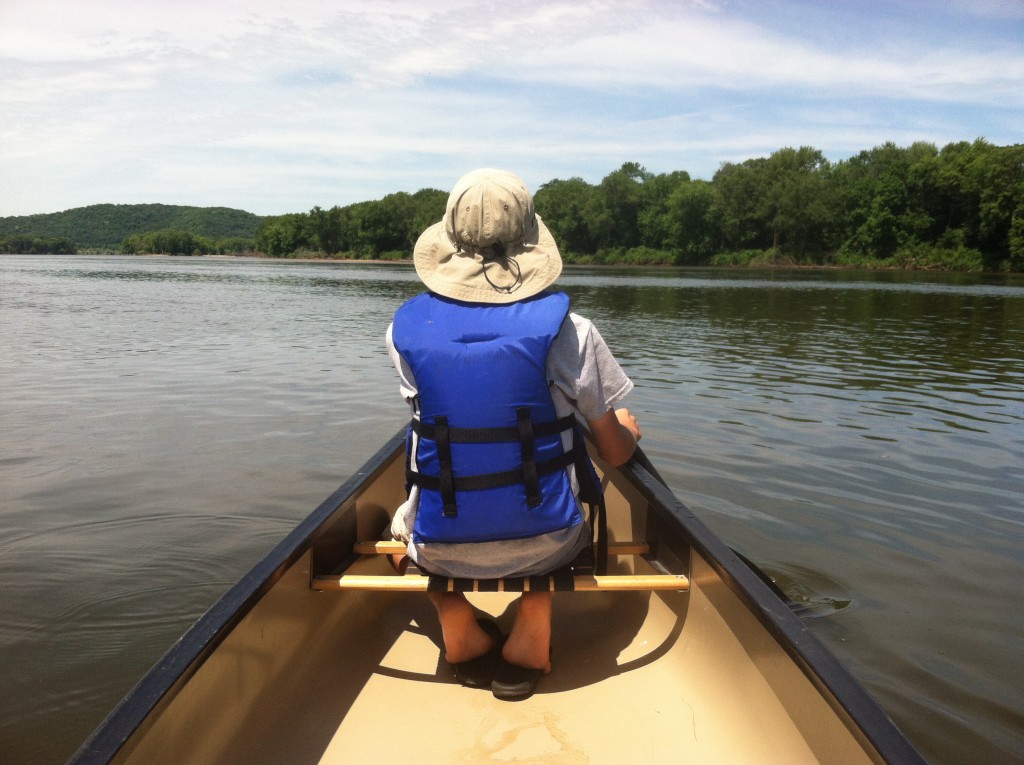 One of our favorite moments of the trip was when we stopped at one of the islands and wandered about the sandy upstream section. The hot sand burned our feet so we moved quickly to the small, shallow channel that lay between the island and the nearby bank. This channel's flow was far more clear than the main channel of the river, and in it we found a number of mussels. Several, thick and gnarly and trailing vegetative matter, appeared very old.
We could actually see a smaller mussel moving along the sandy bed, sometimes even positioned length-wise on end like a quarter on its edge. We could see its underwater trail in the sand, a faint and sinuous line across the sandy channel bed's curvy lines of low dunes.
"Moving" is actually far too fast a word. Even "inching" is too fast.
You had to look carefully as its progress was so slow. But there it was.
Moving.
It was slowly moving by extending its fleshy "foot" forward and then pulling itself forward.
My son, out of interest or politeness, listened as I told him about the mussel's natural history. The male mussel releases its sperm into the water, and when a female mussel of the same species pulls in a quantity of stream water for filtering out of its food, the sperm have their opportunity to find the eggs within the female and fertilize them.
But we haven't even gotten to the interesting part. The fertilized egg grows into a tiny larvae called a glochidia, which must attach itself to a fish if it is to continue its life cycle. So adult mussels often shape bunches of their glochidia into shapes that resemble the normal prey of the fish they need to attract. These shapes can be things like small fish swimming in a current, worms, and even crayfish.
When a fish investigates and then bites into the bunch (cue the Mission Impossible theme music), the individual glochidia have their chance to attach to the fish, usually on the gills. Eventually, the glochydia transitions into a juvenile mussel which drops off of the fish, descends to the stream bottom, and begins its independent life with little or no harm having been done to the fish. The beauty of this system is that the adult mussel's progeny are able to hitch a ride to a distant location.
Just to reassure you, I should mention that I didn't lecture him. And I didn't share nearly the level of detail that you are reading here. I just shared the fundamentals of what I know of mussels and their lives and their value to the life of a river. Above all, I shared my own sense of wonder.
In retrospect, I wish I would have have talked with him in the same way about the Christian faith during the trip. Not in a lecture. Just the fundamentals as I know them in the language that is true to me. And with the mystery and heartfelt conviction of the faith's underlying truth and values.
One of the fundamentals I would share is the reality that life, even a life of faith, will have struggles just like the westerly wind that made some of our paddling hard work.
Another fundamental would be this – humanity has indeed been given special capacities, and yet, simultaneously, we are in a sacred fellowship with the rest of creation. All of Creation matters to God. All of Creation should matter to us.
I would tell him, too, that beginning to gain an understanding of God and the life that God desires us to live is as complex an undertaking as understanding this world and its workings. But the effort to seek that understanding and to act on what we do know at each moment of our lives is what life is about and is worth the effort.
Ultimately, we should love our neighbors as we love ourselves.  We should renew Gods' world even as we use it for our survival.
The mussel has something to teach us about that ethic. Mussels feed by sucking in water and filtering out food items like  like algae, bacteria, and detritus. The mussels then expel clear, clean water. When mussels occur in large beds, as they often did decades and centuries ago, the net effect was a purifying of the waters of the stream. Clear water allowed more light to reach algae and aquatic plants which supported more creatures that feed on the algae and plants. The result was a underwater world that was more full of more life
As I write this I am convicted. I must tell him all that. I will.
I hope and pray that he will eventually and of his own free seek out God and live out a God-fearing life all of his days. And as part of that life of faith, I hope and pray that his faith and life will possess a love for God's world, in both its eye-catching and humble forms.
In other words, I hope and pray that the Gospel he follows will have mussels.
Does yours?