Earlier this month, I saw a performance of the one-person play Map of My Kingdom at the meeting of a farmers group in downtown Chicago.The play was commissioned by Practical Farmers of Iowa and written by Iowa's Poet Laureate, Mary Swander. In the play, the words and remembrances of Angela Martin, a woman who uses her legal and mediating skills to helping farm families transition their farmland from one generation to the next, immerse the viewer in the complexity and emotional intensity of those transitions. There are many references in the play to Shakespeare's King Lear. In that story, of course, King Lear makes cavalier and egotistical decisions about how he will divide his kingdom among his daughters so he can enjoy a care-free retirement. This goes tragically wrong. Mary Swander's play reveals to us how human frailties and legal complexities can cause generational transitions to likewise end tragically for farmland-owning families today.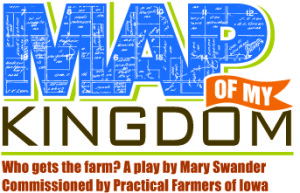 Yet, the play ends on a cautiously positive, understatedly hopeful note. Because that note comes from a story that relates to the themes of this blog so directly, I asked Mary if I could run that final story segment here. She generously agreed.  
In the segment you'll find below, Angela tells the story of how a husband and wife (Marilyn and Gerry) were inspired to do the hard work of carefully transitioning their family's land to the next generation because they came to realize that being committed stewards of the land was something their Christian faith called them to do. 
…….
(ANGELA opens up the LAST BOX.)
But sometimes when it starts to fall apart, a family finds its way. Sometimes I help . . . I am learning to help more and more.
I had known Marilyn and Gerry for a long time. They had a large farm—really thriving. They survived the Farm Crisis, grew responsibly—real respected members of the community. I was surprised when they walked into my office—for a year Gerry worked closely with his lawyer, accountant, and a consultant to make a plan for his land—for after he and Marilyn stopped farming or…well if something happened. Gerry reached this place where he and Marilyn had digested everything that the consultant and lawyer and accountant suggested. Then they set up a meeting with me.
Gerry and Marilyn had everything in order—the books, the abstracts—they had asked tough questions and were working those out together. They worked on a mission statement, a plan for the farm and got their kids and family on board. It had seemed easy.
I didn't know how hard it had been for them, how hard they had worked to make it seem easy, until Marilyn came into my office a few weeks after Gerry's passing to put that plan we had made together into motion.
She sat down, exhausted from the funeral and those lonely, weeks after—all that work tying up loose ends, all that work that nobody ever sees, all that work that leaves little time for doing, let alone feeling anything else.
Marilyn came in. I put on the coffee and we just sat. And then she told me a story.
(ANGELA takes on MARILYN, grabbing mug from the box, and sits. She takes a big breath, and exhales quietly. A beat.)
I went to see the pope once.
(A beat.)
Never thought that would be something I'd want to do. Not Catholic, you know. But the Pope was traveling across the states, visiting churches, you know…blessing people…and I got the idea that I was going. This is what I was going to do—see the pope.
Gerry…he was busy, not interested, but said "go on"…you know, knock myself out. With the pope.
That's funny.
(A beat.)
So I drove into the city—people everywhere—he drove up in that…that Pope-mobile…and you just start waving, you know—can't help it. He's there in his little . . .aquarium. . .and you raise your arm up in the air and he's waving and I felt he was saying "Hi" right to me and I just start hollering, waving, whistling. I mean, I never got to see the Beatles or Elvis, so I guess I got it all out of my system with that pope.
And we settle in to listen to him—sitting on these hard bleachers to…you know…hear the pope.
And Gerry was at home on the farm choring, doing the milking in the barn. I guess he turned on the radio and they were broadcasting the pope…so I was sitting in the bleachers and Gerry was milking, but we are both listening to what this guy had to say. And what is some guy from Rome, you know, with the fancy robe gonna have for us—me on the bleachers, Gerry on the farm? I mean, really?
And the pope started to talk and I was looking around at all these people and Gerry must have been milking, not really listening much and then suddenly we heard the pope talking about the need to be stewards of the land and how we are called to leave the Earth, the soil in better condition than we found it. . . "The land is yours to preserve from generation to generation."
That hit me. And it hit Gerry.
I started to cry. Right there, the pope talking and tears running down my face.
I got home that night and Gerry was sitting at the table. No, "How was it?" or anything just sitting there—hands folded, thinking.
"Gerry?" I said and he reached over and took my hands…
(MARILYN reaches out, thinking about the moment. A beat.)
Gerry told me he had listened on the radio and almost fell on the barn floor when the pope talked about the land. Gerry started to think about our kids and what we were leaving them. And how we were leaving the farm to them.
And I said, "Me, too." The pope's speech did the same thing to me. And we sat there a bit . . .thinking . . .and then we got up, cooked dinner and.. . Well, that was it . . . So we just decided we wanted to figure out what we would do next.
(ANGELA takes off MARILYN, puts mug away, stands.)
And they did.
They found a way to communicate to their kids what they valued and hoped for the land going forward. Everybody signed off on the plan—no surprises. One son was going to stay on, farm the land while renting from his siblings. Gerry had him build another house down the road, far enough away so that he couldn't see Gerry and Marilyn's farmstead. Gerry figured that would keep him from trying to meddle in how his son was starting to farm and keep his son from trying to fix what he thought Gerry was doing wrong.
And that wasn't really the fix you know—it just got the issue out in the open, got them talking about it, Gerry and his son, and they figured it out as they went right up until Gerry passed. It wasn't easy, but I learned that day how hard they had worked, how much honesty or courage it took to make it look like it was.
…….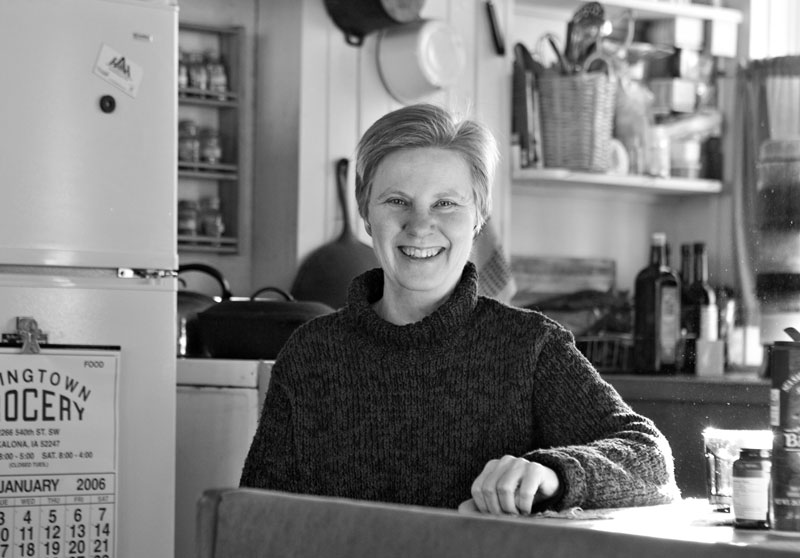 I again offer my thanks to Mary Swander (in the photograph above) for allowing the excerpt to be  reprinted here. If you know of a group who might find this one-act, one-person play meaningful, please contact her to discuss arrangements. It's a play worth sharing, especially in rural areas.
Watching the play also reminded me of the power of story and art. It also reminded me that how we treat the land reflects, as do our choices in many other realms of our lives, the real values we live by.